Pixie Lott is the queen of casual style, and I salute her for it. This denim gilet and grey joggers combination caught my eye in this week's more! magazine, but I felt it could do with a few tweaks to be suitable for everyone. Regrettably, as I would love to wear joggers with everything, slouchy bottoms do not suit my body type. I needed to change the outfit around to suit me, and here is what I came up with.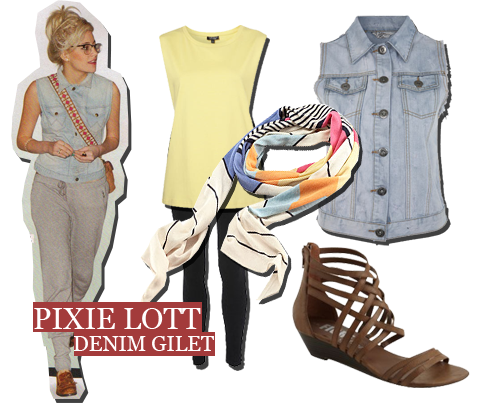 Everyone has a pair of black leggings lurking in the bottom of your wardrobe, and so you should, they're an absolute wardrobe necessity. For this look, add leggings instead of joggers to give a sleeker outline which compliments your curves rather than hiding them.I know what you're thinking - leggings instead of trousers can be a huge fashion crisis. But never fear, add a simple top underneath the fully buttoned gilet to cover the top of your leggings.
Adding a colour pop to an outfit is a season must, and your chosen top should reflect this. Think bright colours which will give a small, but vibrant colour pop to the gilet and leggings combination. I chose the Topshop slashed neck teeshirt in pale yellow, which could be complimented with matching nails. I'm in love with aztec/tribal/block print scarves, and the colourful scarf from H&M can add an accessory boost to your gilet whilst adding even more colour for the summer months.
I love Pixie's loafers in this look, but you could equally wear it with ankle boots, gladiator sandals or heels dependent on where you were going. The Matalan gladiator sandals featured are £14, an absolute bargain for those who need a trusty pair of sandals to wear all season long.
So there you are, add a colourful twist to Pixie's look with a scarf, basic tee and matching nails. It's perfect for all occasions, all summer long.